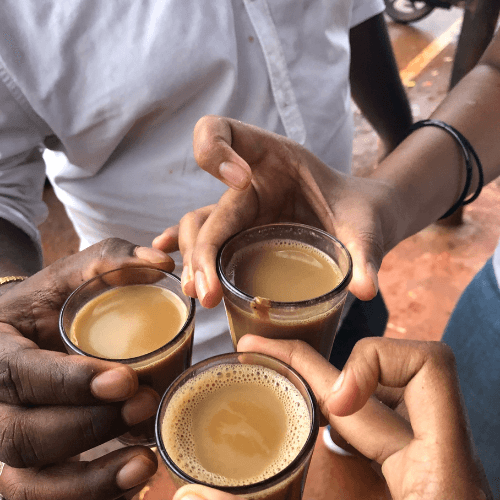 The Power of Ayurvedic Tea: A Refreshing Boost for Women's Health and Wellness
I grew up in an Indian household where Indian Chai mixed with Ayurvedic chai masala was the first thing to consume by my parents and grandparents did. This Indian chai, Ayurvedic Tea, was my parents' most effective stress buster. I still remember when they mentioned nothing like a warm cup of Tea when you're stressed, having headaches, or need a little pick-me-up in the morning.
So, until I started my brand, I never realized there is a powerful connection in terms of health benefits based on the ancient Indian system of Ayurveda! Ayurvedic Tea is the perfect energy balance, calms your mind, improves digestion, and supports your immune system. In this blog post, I want to talk about the world of Ayurvedic tea and how it will help us as women. This is one feel-good post that I have been itching to write for quite some time.
So let's talk about Ayurveda first. Ayurveda is a comprehensive preventive health system that started over 5000 years ago. Today, it's still practiced widely in Indian households, knowingly or unknowingly! There are so many concoctions we learned from our ancestors. However, Ayurvedic Tea remains a unique sense of connection in general. It does have cultural, health, and mental significance in my culture.
That's why in Ayurveda, we always talk about beauty inside out or mind, body, and spirit connections; Ayurvedic Tea nurtures it all.

So, What's inside Ayurvedic Tea?
As I said, Ayurvedic tea signifies the connection, but what makes Ayurvedic tea special is that the blends of traditional herbs and spices are used as a part of "Chai Masala." Traditionally Ayurvedic Tea contains spices like dry ginger powder, cardamom powder, holy tulsi, lemongrass, Piper longum (In Gujarati, we call people mool), and sometimes cloves! All these herbs and spices promote the well-being of your health. For example, ginger can help with digestion and reduce inflammation. At the same time, tulsi (holy basil) can calm the nervous system and promote mental clarity.
I wanted to share my family's traditional Ayurvedic Tea recipe. However, I want to go over a few Ayurvedic Tea Benefits first.
Ayurvedic Tea Benefits can be altered based on Ayurvedic Tea Spice or Chai Masala. Thus, this Tea is beneficial based on the herbs you use inside. One of the most popular Ayurvedic tea blends is chai, which typically contains black Tea, ginger, cardamom, cinnamon, and cloves. Chai is warming, spicy, and fragrant and is said to help with everything from improving circulation to easing menstrual cramps. Other common ingredients in Ayurvedic teas include turmeric (an anti-inflammatory powerhouse), licorice root (which can soothe a sore throat), and ashwagandha (an adaptogenic herb that helps the body deal with stress).'
Ayurvedic Tea is particularly beneficial for women, as it can help alleviate common menstrual and menopausal symptoms. For example, chamomile and lavender are gentle, calming herbs that can help with anxiety and mood swings. Fennel and fenugreek can ease bloating and cramps. At the same time, a red raspberry leaf can tone the uterus and promote healthy menstruation. If you're going through menopause, black cohosh, and dong quai are herbs often used to balance hormones and reduce hot flashes.
What's excellent about Ayurvedic tea is that it's not just good for you – it also tastes delicious. Whether you prefer chai's pungent spices or chamomile's delicate floral notes, there's an Ayurvedic tea blend that can suit your taste buds and your health needs. Plus, taking a few minutes to brew and savor a cup of Tea can be a wonderful self-care ritual that helps you unwind and focus on the present moment.
So, now here is my family's favorite Indian Chai Recipe
For 1 cup of Tea
Making Ayurvedic Tea is a two-step process. 1) Make Ayurvedic Chai Masala; 2) Make Ayurvedic Tea itself
Ayurvedic Chai Masala ( for 2-3 month supply)
½ cup dried ginger
1/3 cup Cardamom seeds
1/3 cup Pipple Mool
4-5 cloves
Grind all these spices into the grinder. Store it in an airtight container. Make sure you store it in a cool dark space. This will retain the aroma of chai masala.
Now, time to make an authentic chai!
Step 1:
Boil ¾ cup of tap water and ½ cup of fresh cow or buffalo milk. Heat 1 cup of water-down milk on medium flame in a vessel and keep stirring constantly, ensuring it doesn't stick to the bottom. Once it boils, set it aside.
Step 2:
Add spices for flavor 
Take a pestle, add 3-4 holy basil leaves, a small piece of ginger, and two tsp of Chailmasala. Grind them coarsely and add to the milk that's boiling. Be sure to add sugar according to your taste preference to melter correctly.
Step 3: 
Now put this Ayurvedic Chai Masala mix into water-down milk, and add 2 tsp of tea leaves. Check the quantity of the tea leaves - too much can ruin the flavor, while too little can result in a weak chai. Switch off the flame after 2-3 minutes and add this boiled Tea (your desired color should be light brownish).
Step 4: 
Strain and serve. Enjoy your homemade chai by serving it hot with dry snacks or some Indian millet bread. You can always add less or more milk, sugar, or Tea to meet your preferences.
Step 5:
Experiment with ingredients. You can add various elements to your chai to give it an exceptional flavor. For example, add mint or basil leaves for a refreshing twist. Some people dilute their chai with coconut or evaporated milk, resulting in a creamier consistency. You can also try different types of cinnamon, nutmeg, and other spices to give your chai a distinctive taste.
To sum it up!
Incorporating Ayurvedic Tea into your daily routine is a simple yet effective way to support your health and wellness. Whether you're dealing with digestive issues, stress, or menstrual symptoms, an Ayurvedic tea blend can help you feel better. By taking a few moments each day to enjoy a cup of Tea, you can also slow down and practice mindfulness – an invaluable practice in today's busy world. So why not try Ayurvedic tea and see how it can benefit your body and mind? You might discover a new favorite self-care ritual.
Let me know your preferred way to make the Tea! Can't wait to hear more.