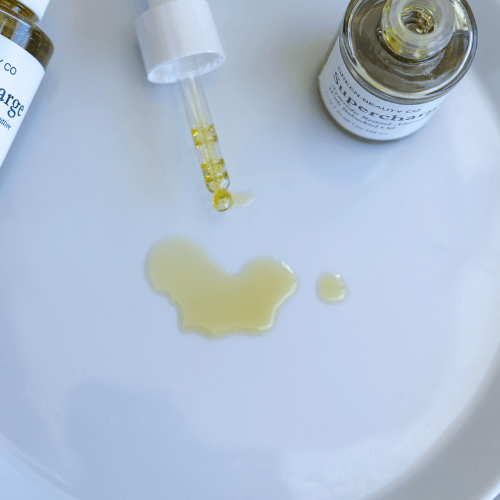 Get Glowing Skin with Ayurvedic Face Oil
Growing up in the 90s and being born in the 80s, we learned that oil is not a good solution for moisturizing skin. It will give you acne and breakouts. But is it true? My mother always used special oil for her face, and even though she is in her mid-sixty, I have never seen a breakout or acne. When I asked my mother what's her secret and, she said: It's my Ayurvedic Face Oil! So in today's blog post, I want to share how to get glowing skin with Ayurvedic face oil. I will share benefits and some infused ayurvedic face oil recipes later.
As you all know, our skin is the largest organ of the body, and it is the one that first faces the impact of the environment. Pollution, stress, poor diet, and lack of sleep all contribute to dull, lifeless skin. For busy moms and nature enthusiasts, finding a natural way to care for the skin can be challenging. Especially market is full of fancy moisturizers and 100s of toxin ingredients inside. That's why I would like to talk about Ayurveda, and it's a love match of face oil!
So, let's start with Ayurveda itself. Ayurveda, which originates from India, is a form of natural medicine based on the concept of holistic well-being. In Ayurveda, the skin is seen as a reflection of our inner health and balance. Ayurvedic face oil is an all-natural way to care for your skin. It includes a combination of natural oils and herbs that can help nourish and rejuvenate the skin. I believe in this moisturizer for my body and face as it contains many benefits.
Ayurvedic Face Oil Benefits:
1. Ayurvedic face oil contains natural ingredients that help soothe and calm the skin. The oil is formulated with various herbs that collectively work to reduce inflammation and redness on the skin. This is especially important for moms with sensitive skin who want to avoid using harsh chemicals. Ayurveda believes that the skin is an extension of the digestive system and that healthy digestion is critical to healthy skin. Chamomile, lavender, and rose are common herbs used in Ayurvedic face oil that have been shown to help reduce inflammation and soothe the skin.
2. Ayurvedic face oil is rich in antioxidants that help fight against free radicals on the skin. Free radicals are unstable molecules that can cause damage to the skin when exposed to the environment. Antioxidants help neutralize these molecules and prevent them from causing damage. Amla, turmeric, and neem are common antioxidant-rich ingredients in Ayurvedic face oil formulations.
3. Ayurvedic face oil is deeply moisturizing and helps to keep the skin hydrated. Dehydrated skin can appear dull, flaky, and wrinkled, making you look older than you are. Moisturizing ingredients in Ayurvedic face oil, such as jojoba, coconut, and argan oil, penetrate deep into the skin, providing long-lasting hydration and preventing moisture loss.
4. Ayurvedic face oil can help to brighten dull, tired-looking skin. Sometimes, our skin needs a little boost to restore its natural radiance. Ayurvedic face oil formulations include brightening ingredients such as saffron and turmeric, known to improve the skin's overall complexion and give it a natural glow.
5. Ayurvedic face oil is a relaxing and nourishing addition to your skincare routine. Ayurveda believes that self-care is vital to overall wellness, and using an Ayurvedic face oil can help you create a calming and restorative ritual for yourself. A few drops of oil massaged into the skin can help to relieve tension and stress, promote relaxation, and nourish the skin at the same time.
DIY Ayurvedic Face Oil Recipe
1 Cup of Almond Oil or Apricot Kernel Oil (Unrefined + Organic)
¾ Cup of Dried Herbs (Holy Tulsi Dried)
¼ Cup of Coffee Grinds
Recipe:
Add dried herbs and coffee, grind in muslin cloth, and tie it well. Make a small bag (potli). Now in a small saucepan, add almond oil and this muslin bag. Boil oil at a minimal temperature for three to four hours. This is the fastest way we can infuse herbal benefits into the oil. Once it's cool down correctly, put oil into a dropper bottle and apply AM/PM.
Since this oil contains herbal benefits and the comedogenic score is lower, it won't clog your pore but make your skin nourishing and moisturizing. This is an excellent oil for anti-aging.
Ayurvedic face oil is a natural and effective skincare solution that can benefit moms, Ayurveda enthusiasts, and nature lovers alike. We have Vitamin C Serum (AM) and Vitamin A Serum (PM) in our store if you are regularly lazily making these oils. By including these products in your skincare routine, you can enjoy the benefits of natural ingredients that nourish and rejuvenate the skin. As a result, you can achieve glowing, radiant, and healthy-looking skin easily and naturally. With Ayurvedic face oil, you don't have to sacrifice your or the planet's health for beauty.