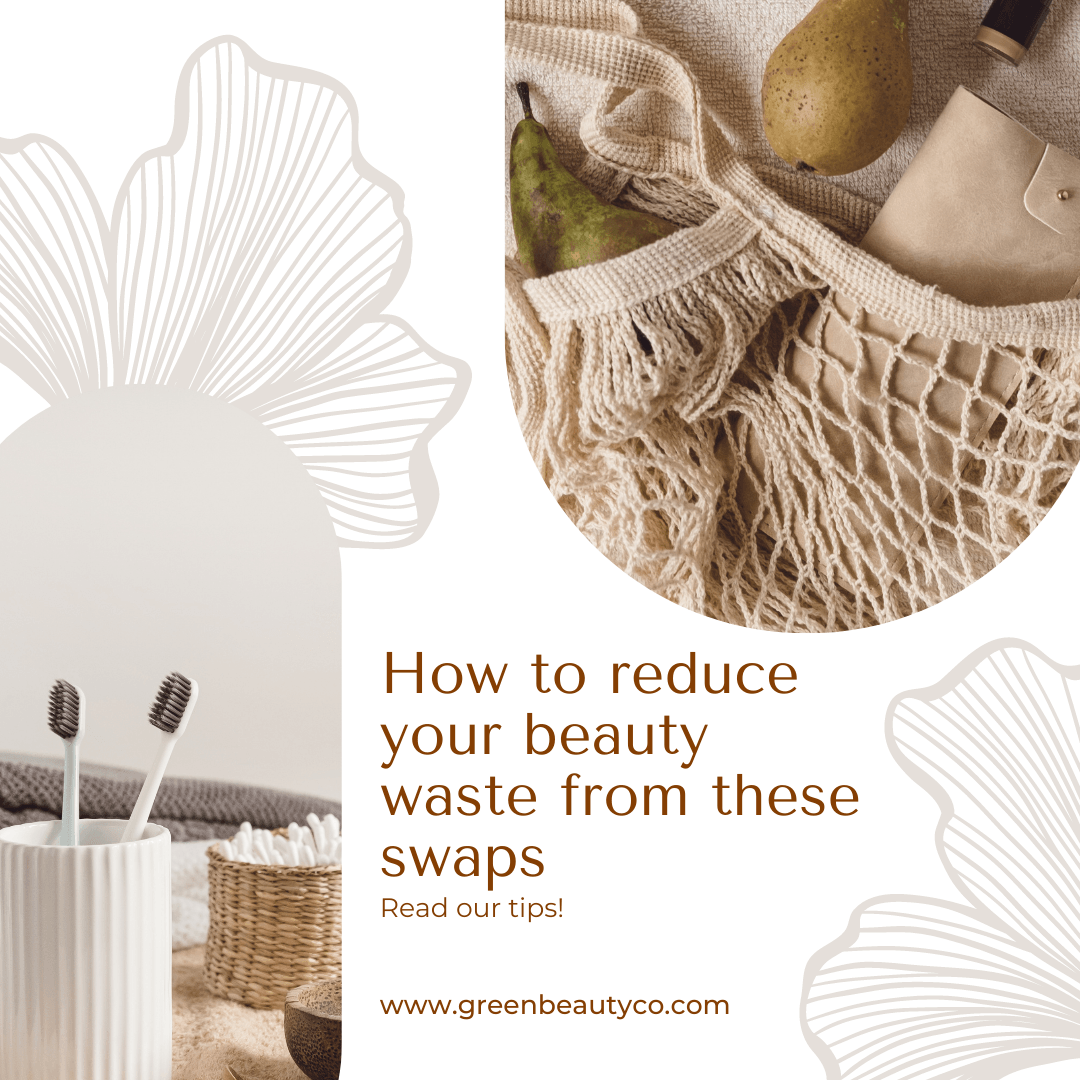 How to reduce your beauty waste from these swaps
 
The beauty industry is rapidly evolving, with many companies shifting their focus towards making sustainable and eco-friendly products.
Ecofriendly Swaps
The Ecofriendly swaps tend to preserve the environment by reducing cosmetic waste and eliminating plastic pollution, making the earth a better and sustainable place to live for all living organisms.
Please have a look at the following Ecofriendly swaps and their role in mitigating cosmetic waste.
How to limit waste from shampoo and conditioner
Swap Shampoo with Beauty Bars
Shampoo bottles are purchased throughout the year, contributing to significant plastic waste that pollutes the environment. Probably, the worst thing about plastic is that it does not decompose for thousands of years. If you are looking for Easy sustainable swaps, consider replacing shampoo bottles with shampoo or beauty bars.
The beauty bars come in minimal or no packaging at all, and their packaging is biodegradable. Not only that, the beauty bars are highly concentrated in nature, making them last longer than most shampoos and conditioners. Sourced from natural ingredients, beauty bars are the best Ecofriendly swaps you can do to gain sustainability.
Swap Plastic Toothbrush with Bamboo Toothbrush
Plastic toothbrushes are used massively worldwide and changed after every three months. These toothbrushes lead to significant plastic waste as they get clogged in the sewers and drainage.
Instead, get a bamboo toothbrush that not only looks good aesthetically but preserves the environment too. Since bamboo breaks down quickly, it helps in conserving the environment.
Swap Plastic Bottles with Glass Bottles
Since plastic-based products lead to environmental pollution, consider getting glass-based beauty products as they are a much sustainable option than plastic. Glass has tons of benefits as it can be easily recycled. Also, glass bottles can be used in crafts for DIY or can be refilled again.
You can also swap components of plastic bottles in the glass bottles and recycle the plastic bottles or packaging.
Swap from Plastic Razors to Metal Razors
People around the world consider shaving as the first option in removing hair. This means that tons of plastic-based razors are used worldwide, leading to significant plastic waste. The plastic razors are thrown in the gutter causing potential harm to marine life.
Conserve the environment by swapping to stainless steel razors that do the job while reducing plastic waste. They can be used multiple times for a long time, and the blade can be recycled easily.
Swap Facial Wipes with Microfiber Cloth
Facial wipes or cotton pads comprise plastic-based materials that make them non-biodegradable. Most people throw away the wipes after a single use which leads to cosmetic waste.
Swap to a microfiber cloth or reusable pads that provide a much better option of removing makeup while maintaining sustainability simultaneously. Microfiber cloth can be used many times for multiple purposes, making them quite useful.
Swap Cotton Buds with Biodegradable Buds
Cotton buds or plastic Q-Tips are massively used worldwide due to their multiple purposes. Many people tend to throw the used buds in the toilet, which clogs the pores and harms marine life.
Also, the plastic does not decompose for hundreds of years, making it very unsafe for the environment. Swap your cotton Q-Tips with biodegradable buds that prove to be much safer and decompose easily.
Swap to Vegan Beauty Products
Beauty products such as makeup brushes use animal hair leading to the endangerment of species. Protect the ecosystem by switching to cruelty-free or vegan beauty products that not only prevent animals from being harmed but prove to be more beneficial for the skin as they are made up of natural ingredients.
Swap Small Sized Bottles with Large Ones
Small-sized plastic bottles tend to get finished and replaced quickly, contributing to plastic waste. Instead, swap to jumbo-sized bottles that offer much more content, less packaging, and are used progressively. In addition, you can also get products that offer a refill option so that you can get saved from the hassle of shopping and reducing plastic pollution.
Swap After-Shave with Shaving Bar
Many shower products we use come in plastic packaging that is disposed of, leading to plastic pollution. Consider swapping to metal-based products that can be recycled easily, such as using a shaving bar instead of after-shave, which comes in plastic packaging.
Easy Sustainable Swaps
By swapping to environment-friendly and sustainable beauty products, you will not only reduce cosmetic waste but will play a significant role in preserving the environment.
References:
https://plantd.co/7zerowastebeautyswaps/